Prescription App for your Pharmacy!
We created a Prescription App for your Pharmacy that allows your Patients to Conveniently and Easily Submit Prescriptions, Request Refills and chat with a Pharmacist - all from the Comfort of their Own Homes!&nbsp Moreover, the App is built with Your Brand & Logo, and is available on Apple and Android devices!
START TODAY
World-Class Prescription Application
World-class Pharmacy Prescription system that connects the pharmacy with patients, providing the next level of patient pharmaceutical care that is Quick, Easy, Convenient and Online!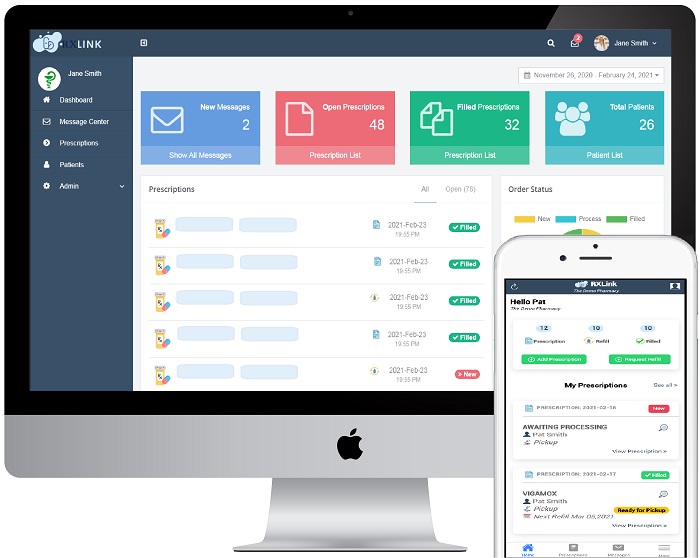 Why Online Prescription System?
Consumers are demanding online services more than ever. Bring your pharmacy into the Online World by creating your own Branded Prescription Mobile App to connect with customers.
Mobile app for customers to submit Prescriptions & Refills.
Get notified when a new prescription is added and respond to customers via chat, SMS or email.
No up-front payment or fees. Low Monthly subscription to fit your needs.
Stored Securely in the cloud - which means no installation & no backups. We take care of it all!
Patient profile with info such as allergies & contact info.
Secure chat between patient & pharmacist.
Provide domain for your pharmacy or include in your existing domain.
Web-enabled backend for pharmacy use.
Let your customers send prescriptions to your pharmacy Online - securely, quickly and conveniently - from a mobile application that is customized with your brand.
Mobile App
iOS and Android application with your own brand and logo. Customers can easily signup by providing their email.
Web Portal
Web portal added to your domain where customers can signup and submit prescriptions & refills.
Domain
Provide your own domain or we'll setup a new one for you and connect it to the pharmacy portal.
Pharmacy Access
Easy access for multiple pharmacists to use the system, fill prescriptions and communicate with customers.